Defending San Francisco's Waterfront from Flood Risks
San Francisco faces coastal flood risks today. These risks will increase in the future due to sea level rise and extreme storms, threatening buildings, small businesses, popular attractions and open spaces, jobs, and critical services such as BART, Muni, and the wastewater system. 
To defend San Francisco from current and future flood risk, there is a need to adapt shoreline elevations to address 3 to 7 feet of sea level rise expected by 2100. Any effort aimed at long-term sea level rise resilience will also need to strengthen the waterfront against the urgent earthquake risk we face today.

Left: photo by Dave Rauenbuehler 
Three Approaches: Defend, Accommodate, Retreat 
Adapting the waterfront will require change on a large scale. It will mean making challenging choices that balance multiple factors and priorities. 
There are three approaches to address flooding and earthquake risks along our waterfront. Defend, Accommodate, Retreat. Each approach has many possibilities and comes with challenges. 
There is no single approach to adaptation that will meet the needs of San Francisco along the entire waterfront. The different risks, topography, and historic development of the waterfront means that we will need to use a combination of approaches. 
Defend against floods by raising the existing shoreline to keep the water out. 
Accommodate flooding by letting the water in, adapting buildings and infrastructure in place. 
Retreat from the current shoreline by moving buildings and infrastructure inland.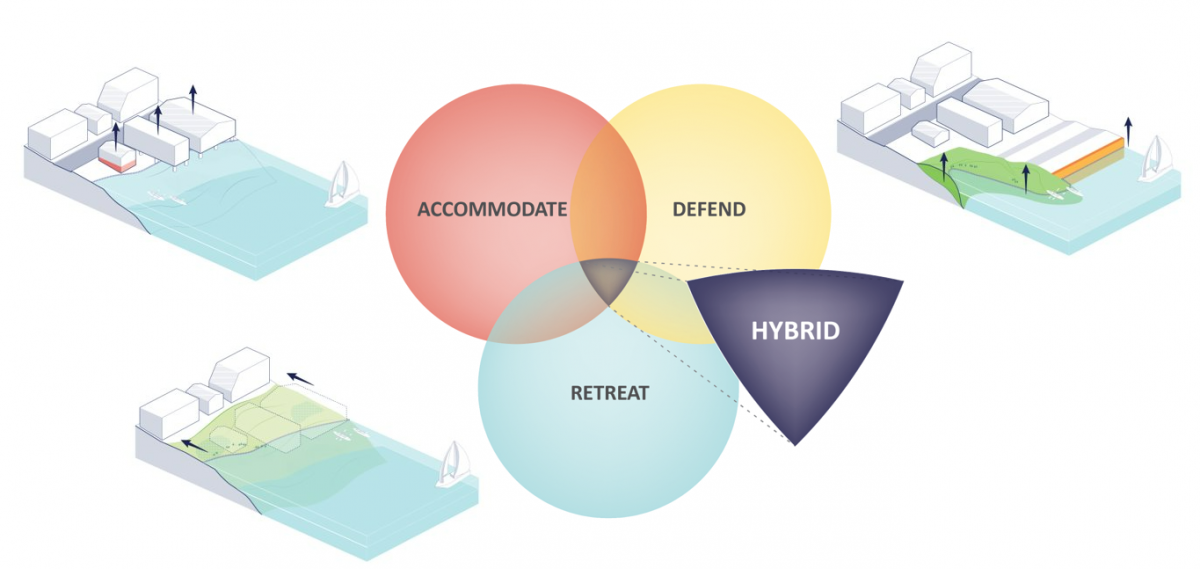 High-Level Draft Waterfront Adaptation Strategies
The Port of San Francisco has developed seven high-level Draft Waterfront Adaptation Strategies through a collaborative interagency process and over five years of public engagement. Draft Waterfront Adaptation Strategies will be ready for public feedback this fall, with a goal of reaching a locally-endorsed Waterfront Adaptation Strategy in Summer 2023. This locally-endorsed strategy will identify a preferred approach to adapting the waterfront to flood hazards including sea level rise. 
This is a once in a generation opportunity to not only defend our waterfront from future flood and earthquake risks, but also to rejuvenate the waterfront, improve the City's connection to the Bay, and bring benefits such as more open space, enhanced mobility, increased safety, healthier natural systems, and jobs. 
For more information about seismic and flood risks facing the waterfront, visit the Seismic and Flood Risk 101 page. 
To learn more about about how the Port is adapting the waterfront, visit the Embarcadero Early Projects and Living Seawall Pilot pages.