Fishing has a long history at the Port of San Francisco dating back to the 1900s when a part of the waterfront was set aside for commercial fishing, aptly named Fisherman's Wharf. Since then, Fisherman's Wharf has evolved from fishermen selling their daily catch from the boats to setting up stalls that turned into a thriving eateries.
Today, locals and tourists can still take part in this traditional fishing culture at Fisherman's Wharf. Pier 45 has state-of-the-art fish processing facilities and produces more than 21 million pounds of fish every year and supplies three-quarters of the fish in San Francisco restaurants.
Fishing is allowed from public spaces along the Port waterfront. There are several public piers across the waterfront perfect for fishing. Waterside parks, including Agua Vista Park, Pier 94 wetlands and Brannan Street Wharf, also offer ample space for fishing.
Visit Commercial Fishing for information about business opportunities for commercial fisheries and sport fishing excursions.
Sport Fishing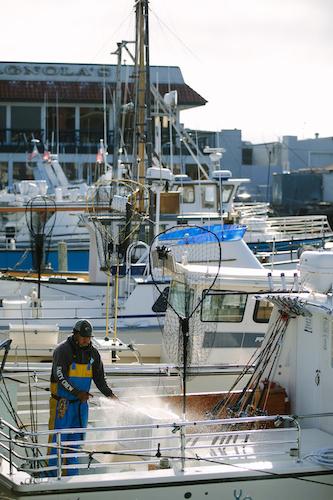 Experience the thrill of sport fishing at the Fisherman's Wharf. The sport fishing fleet is based at the inner lagoon on Jefferson Street and offers exceptional fishing excursions to anglers of all skill levels. Depending on the season, fishers can reel in rockfish, salmon, striped bass, halibut, sturgeon, and even sharks on deep-sea fishing outings.
Interested in going fishing? Check with individual sport fishers on Jefferson Street by the lagoon or at Hyde Street Harbor.