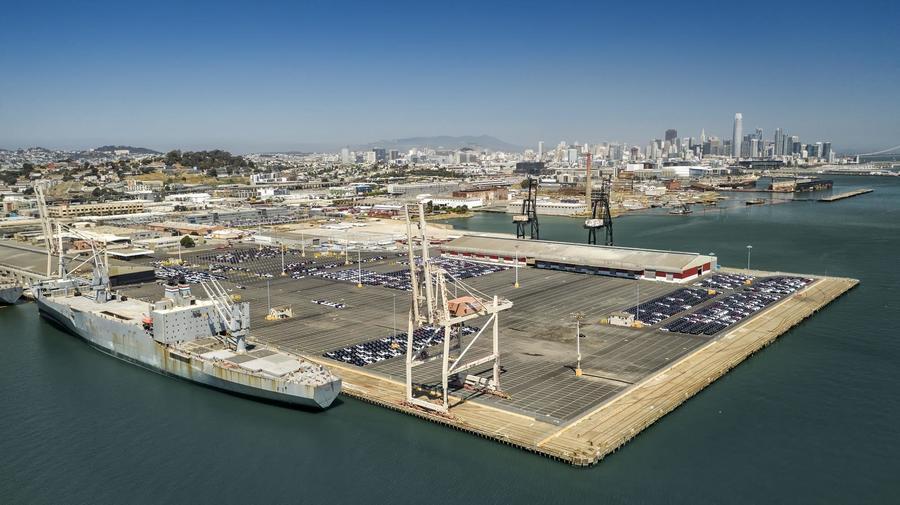 The Port of San Francisco is able to handle several types of cargo in an efficient and cost effective way. Several harbor and cargo service facilities are located near our terminals offering easy access to tug and barge companies, heavy lift crane services, a Foreign Trade Zone, cold storage, and warehousing. 
Under the management of Pasha Automotive Services, the Auto-Processing Terminal at Pier 80 is used to import, export, and process vehicles. With numerous auto dealerships in the Bay Area, Pier 80 is a strategic location for importers to quickly reach their sales networks.
Sand and aggregates used to make concrete are imported at Pier 92 and Pier 94 terminals. These dry bulk cargoes are components of many of the large-scale construction projects underway in San Francisco and the region.
Pier 96, which features a deep-water berth, on-dock rail, and 30 acres of dock space, is currently being marketed for other cargo opportunities.
Rail services are available through Union Pacific Railroad and San Francisco Bay Railroad.
Apply for an extralegal truck permit through the San Francisco Municipal Transportation Agency website.
Sign up for notifications about maritime opportunities.
Please contact maritimeops@sfport.com for inquiries about cargo and shipping.
Terminal Details
Location: Cargo Way off Third Street
76 acres
3 40-ft MLLW berths, total length of 2,450 lineal feet; wharf design load of 800 lbs./sq.ft.
24,000 sq.ft. Maintenance and Repair Building
On-dock rail access and direct access to Intermodal Container Transfer Facility
| | |
| --- | --- |
| Crane Specifications | Two Starporters |
| Capacity | 40 LT (Twin 20' lift) |
| Outreach | 115 ft. |
| Clear life above HHW | 105 ft. 6 in. |
| Overall lift | 147 ft. |
| FPM hoist loaded | 100 |
Terminal Details
Location: Cesar Chavez and Maryland Street
69 acres
3 40-ft MLLW berths, total length of 2,700 feet; wharf design load of 1,000 lbs./sq.ft.
Covered storage facilities available

Shed A, 224,000 sq. ft.
Shed D, 170,000 sq. ft.

30,000 sq.ft. Maintenance and Repair Building
Gates

4 entrance lanes, 2 exit lanes, 1 bypass lane
4 Fairbanks 70' x 10', 60-ton capacity scales
Radiation Portal Inspection Lane

On-dock rail access via Illinois Street Bridge
| | | |
| --- | --- | --- |
| Crane Specifications | Paceco | Two Hyundai/Pacecos |
| Capacity | 40 LT | 40LT (Twin 20' lift) |
| Outreach | 115 ft. | 130 ft. |
| Clear life above HHW | 92 ft. | 102 ft. |
| Overall lift | 130 ft. | 130 ft. |
| FPM hoist loaded | 150 | 150 |
Contact the Port for inquires about additional services:
Six deepwater berths
394,00 square feet of covered storage
5 gantry cranes
On-dock rail
Overweight truck corridor on all streets accessing terminals
Wharf design load of 800 to 1,000 lbs. per sq. ft.
Twin 20' lift capability
Paved land for staging and marshalling of project cargoes