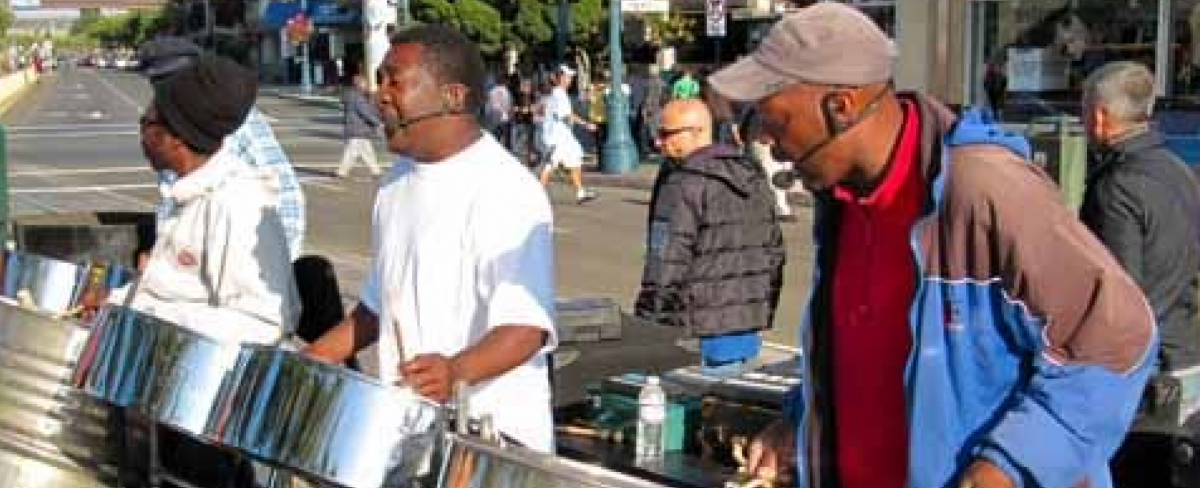 Live performances at Fisherman's Wharf lend to the ambience and enjoyment of this popular waterfront area. The Street Performer Program creates opportunities for musicians, magicians, and performers to engage and perform in one of San Francisco's most visited destinations. 
The Street Performer Program manages the use and schedule of 12 designated performance locations in the Fisherman's Wharf area. Guidelines and Rules ensure fair and equitable access for all program performers and does not interfere with the daily operations of Wharf businesses. 
The Program encourages all street performers to participate in the Program. Acts are not required to audition or obtain a license to perform at the Wharf.  
The insurance application links to a third-party website. Review the Port's Guidelines and Rules for insurance requirements.
Key Program Information
Street Performer Definition
A Performer is defined as an individual or group who performs in a public area, for the purpose of providing public entertainment and self-expression. Performing shall not include: (1) the provision of personal services such as hair weaving or massage; (2) the completion or other partial creation of visual art; (3) the creation of visual art which is mass produced or produced with limited variation or (4) the creation of handcrafts, (5) or activities regulated by the SF Health Department. This list of exclusions is not intended to be exhaustive.
Program Implementation
The Street Performer Program manages a license and monthly schedule selection process with participants who agree to comply with the Guidelines and Rules. Through the Program, licensed performers can schedule their performances at designated locations and perform for longer durations. Program performers may also offer for sale performance-originated products.
Program performers may participate in a monthly schedule selection meeting for the 12 performance locations. Each location has four 3-hour time slots, available daily. One-third of the time slots each week will remain unscheduled and available for unlicensed performers on a first-come, first-served basis.
Unscheduled performances are limited to 90 minutes if there is another performer booked to perform next at that location. Licensed performers may also use unscheduled locations on a first-come first-served basis.
Unscheduled performers may use designated locations on a first-come, first-served basis, accessing available time slots after the monthly schedule selection process.
Designated performance locations are categorized by volume of sound allowed, size of performing group and audience, and sidewalk access for pedestrians. The Port may reserve, schedule, or revise the locations and volumes as needed.
All Performers are subject to the provisions stated in the Guidelines. Schedules and Guidelines will be posted at each location and online. The schedule will be distributed to SF Police Department, Port Security, the performers, and the Street Performer Program Administrator.
Program Schedule 2022 and 2023:
Fisherman's Wharf Street Performer Program
Scheduling Key Dates for Year 2023
Location: Port of San Francisco, Pier 1, San Francisco
Key Dates for 2023-2024
Pre-registration occurs from 9:30 -10 am. Scheduling meetings from 10 am - 4 pm.
March 9, 2023 - scheduling period for April-June 2023
June 8, 2023 - scheduling period for July - September 2023
September 7, 2023 - scheduling period for October - December 2023
December 7, 2023 - scheduling period for January - March 2024
March 7, 2024 - scheduling period for April-June 2024
June 6, 2024 - scheduling period for July - September 2024
September 5, 2024 - scheduling period for October - December 2024
December 5, 2024 - scheduling period for January - March 2025