Third Street Bridge Closure Notice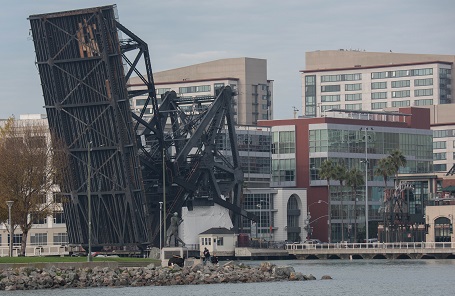 The Port has been notified that the Third Street Bridge, also known as the "Lefty O'Doul Bridge", is scheduled for rehabilitation work starting Monday, December 11, 2017.  This San Francisco Department of Public Works (SFDPW) project is being done in order to sustain the integrity of the bridge and to address corrosion issues.  Work will be completed in two phases and involve; repairs and/or replacement of damaged steel members, welds, concrete counterweights, support piles, bridge fenders, spot removal of rust and associated priming and recoating, removal and replacement of the steel bridge deck and other associated work. For Phase 1,
the bridge will be closed for approximately 45 days from December 11, 2017 through January 26, 2018. 
Be advised that the construction schedule may change due to rain, equipment breakdown, and/or unforeseen field conditions.
Phase 2 of the project will commence in March 2018 and is expected to last for 18 months through September 2019.  During this time, access to the bridge may be limited or closed to pedestrian, bicycle and vehicle traffic, however SFDPW will be working with surrounding residents and businesses to coordinate and minimize impacts from the closures.  During San Francisco Giants home games, the bridge will remain open. 
The Port has not received a traffic plan showing detours and alternative routes, but anticipates SFDPW will make this information available shortly.
For updates from SFDPW about the Third Street Bridge Rehabilitation Project, you can sign-up by going to http://sfpublicworks.org/ThirdStreetBridge .  If you have any questions regarding this project, please contact Public Information Officer, Coma Te at (415) 558-5283 or via email at coma.te@sfdpw.org
For a list alternate routes, please see