Port Rent Forgiveness Program
On August 25, 2020, the Port Commission adopted Resolution 20-41 which approved the Port's Rent Forgiveness Program.  The rent forgiveness program aims to mitigate the crippling financial effects of the COVID-19 pandemic for existing Port tenants, in a fiscally sustainable and implementable manner for the Port. Tenants in the below sectors may be eligible for forgiveness so long as they meet certain criteria.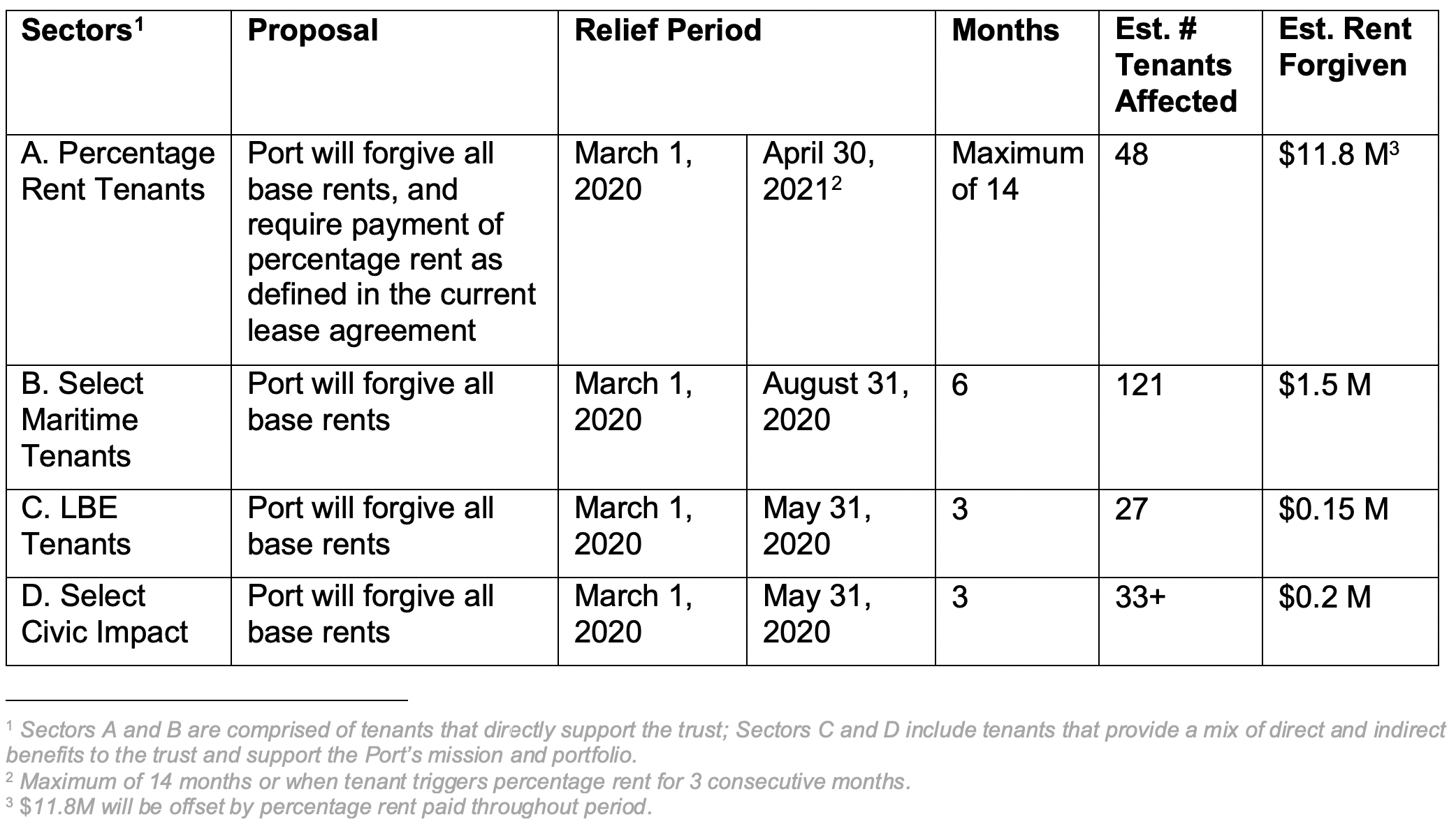 List of Eligible Program Participants
PLEASE NOTE THERE IS NO LIST OF ELIGIBLE PROGRAM PARTICIPANTS FOR THE CIVIC IMPACT SECTOR,
ALL TENANTS WHO MEET CRITERIA ARE ELIGIBLE
For More Information On




Applications period closed on February 28, 2021. 
Other Tenant Relief
REPAYMENT PROGRAM
The Port has approved a Repayment Program for outstanding balances due to Covid-19. For more information on the program please read the Staff Report. 
Micro LBE Loan Program
The Port Micro-LBE Hardship Emergency Loan Program is a zero-interest loan program that was developed in collaboration with the Port and service provider Main Street Launch. The Port recognizes the value of a diverse and local contracting community and is dedicating $1 million in the program for loans up to $25,000 each to eligible Port contractors, subcontractors, subconsultants or tenants.
OTHER RELIEF
The Port launched the Shared Spaces Program which provides no cost temporary permits for use of Port Outdoor Space for business operations such seating, dining or retail pick up.
Port Staff will be returning to the Port Commission later this year with proposals of further relief measures. Please check the Port Commission Calendar and Agenda for agendas on upcoming meetings.