Digital Magazine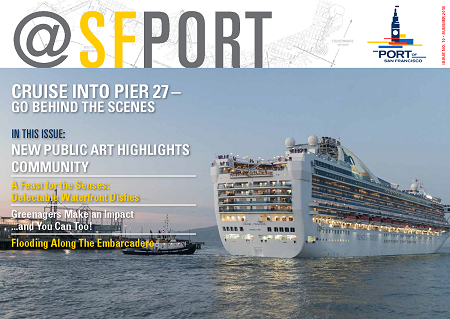 In this issue of @SFPort:
Cruise Ship Day! See the Action First Hand
Port Director Elaine Forbes Podcast
Flooding on The Embarcadero
Honors for Port Women
New Public Art Celebrates Community & Place
Summer Dining at the Port
Greenager Teens Get Environment Experience 
Read Issue 10, Summer 2018


@SFPort, our digital interactive magazine, launched October 2015 and brings you highlights, news, and important updates about the Port of San Francisco's work and keeps you current with what is going on at the waterfront. This quarterly publication is made to be read on desktop and mobile devices. @SFPort features engaging podcasts, beautiful photo essays, video, quizzes, and other interactivity. If you have not subscribed to receive newsletter updates, please do so here.
Past Issues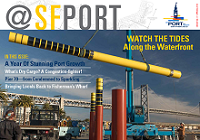 Watch the Tides Along the Waterfront
Port Director Elaine Forbes' Podcast
Fishermmen's Grotto: Locals Learn to Love Fisherman's Wharf Again
Pier 70: Once Again Filled with Activity & Potential
A Year of Stunning Port Growth
Dry Bulk Cargo Builds Big While Decreasing Truck Traffic
Read Issue 9, Spring 2018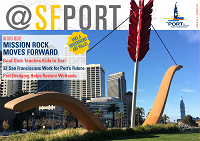 Mission Rock Project Moves Forward
Port Director Elaine Forbes' Podcast
Take a Waterfront Artwork
Bayview Boat Club Teaches Kids to Sail
32 San Franciscans Work to Improve the Port's Future
Dredging Restores Suisun Bay Wetlands
Read Issue 8, Winter 2018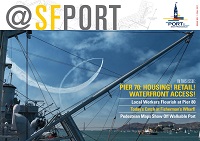 Coming to Pier 70: Affordable Housing & Accessible Shoreline
Port Director Elaine Forbes' Podcast
Port Tenant Employs Bayview Residents
Buy a Fish from the Person Who Caught It!
Fleet Week 2017
Unique Wayfinding Maps Guide Vistors
Read Issue 7, Fall 2017