Digital Magazine
In this issue of @SFPort:

Check out a Map of the Southern Waterfront
Take the Ferry to the Chase Center
Cargo Records by the Numbers
Maritime Industry & Wildlife Habitat Coexist
Resilience All Along the Waterfront
Learn the History behind Pier 70
Another Complex Pile Project 
Be in the Know about the Southern Waterfront
Don't Miss These Fall Waterfront Events!

@SFPort, our digital interactive magazine, launched October 2015 and brings you highlights, news, and important updates about the Port of San Francisco's work and keeps you current with what is going on at the waterfront. This quarterly publication is made to be read on desktop and mobile devices. @SFPort features engaging podcasts, beautiful photo essays, video, quizzes, and other interactivity. If you have not subscribed to receive newsletter updates, please do so here.
 
NEW Podcast!
@SFPort Podcast is available on iTunes, Spotify, Google Play Music & Stitcher
Past Issues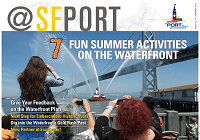 Summer Fun on the Waterfront Map
Learn about the updated Waterfront Plan
Next Step for the
Embarcadero Historic Piers
Dig into the Waterfront's
Gold Rush Past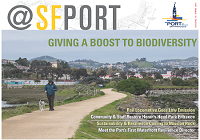 Port Supports Biodiversity
with a New Resolution
 that Makes an Impact
Rail Locomotive Goes Low Emission
Sustainability & Resilience
Coming to MIssion Rock
Heron's Head Park
Entrance Restored
Meet the Port's First Resilience Director
Three Women
Saved the Bay
Read Issue 13, Winter 2019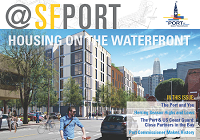 Waterfront Housing
that Makes an Impact
Partnership with the
U.S. Coast Guard
Executive Director's Podcast
: Port Achievements, Milestones & What's Ahead
Bringing Back the Backlands
Port Commissioner
Makes ILWU History
Port Outreach Efforts
Read Issue 12, Winter 2019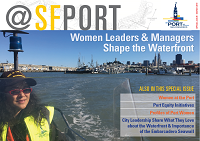 Women Leaders & Managers Shape the Waterfront
Port Equity Initatives
Profiles of Port Women
City Leadership Talk about the Embarcadero Seawall
Listen to a Conversation between Executive Director Forbes & Lieutenant Governor Kounalakis
Read the Port Women Special Issue, March 2019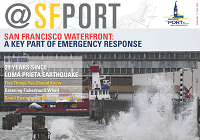 Emergency Response along the Waterfront
29th Anniversary of the Loma Prieta Earthquake
Executive Director's Podcast: Port Emergency Management & Response
5 Things You Should Know about SFPort
Fisherman's Wharf Goes Green
Small Businesses: The Heart of the Port
Read Issue 11, Fall 2018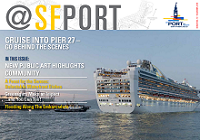 Cruise Ship Day! See the Action First Hand
Executive Director's Podcast: Embarcadero Historic District Request for Interest
Flooding on The Embarcadero
Honors for Port Women
New Public Art Celebrates Community & Place
Summer Dining at the Port
Read Issue 10, Summer 2018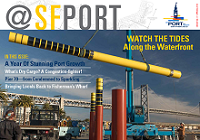 Watch the Tides Along the Waterfront
Executive Director's Podcast: A Year of Stunning Port Growth
Fishermmen's Grotto: Locals Learn to Love Fisherman's Wharf Again
Pier 70: Once Again Filled with Activity & Potential
A Year of Stunning Port Growth
Dry Bulk Cargo Builds Big While Decreasing Truck Traffic
Read Issue 9, Spring 2018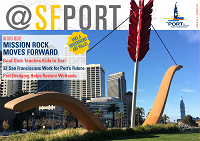 Mission Rock Project Moves Forward
Executive Director's Podcast: Port of San Francisco Remembers Mayor Edwin Mah Lee
Take a Waterfront Artwork
Bayview Boat Club Teaches Kids to Sail
32 San Franciscans Work to Improve the Port's Future
Dredging Restores Suisun Bay Wetlands
Read Issue 8, Winter 2018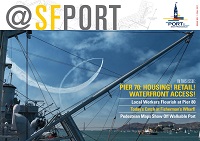 Coming to Pier 70: Affordable Housing & Accessible Shoreline
Executive Director's Podcast: Pier 70 Takes on a New Life
Port Tenant Employs Bayview Residents
Buy a Fish from the Person Who Caught It!
Fleet Week 2017
Unique Wayfinding Maps Guide Vistors
Read Issue 7, Fall 2017