Heron's Head Park
Heron's Head Park is open daily from dawn to dusk, and is located at the foot of Cargo Way at Jennings Street in San Francisco. (+37° 44' 22.99", -122° 22' 33.49")
 
Earth Day 2018
92 volunteers
200+ plants in the ground
314.5 pounds of trash collected
Thank you for all your hard work!
Interested in volunteering at Heron's Head Park? There are opportunities on the Second Saturday of Every Month! Learn more.
 
Greenagers Program
The Port of San Francisco and the San Francisco Recreation and Park Department are recruiting Greenagers! The Greenager Program, is an outdoor youth leadership program that offers teens an opportunity to improve their community's green spaces. We are looking for rising 9th to 10th grade students who are interested in getting involved in their community and local parks as youth advocates, enjoy meeting new people, and want to gain volunteer work experience that will meet your civic engagement component requirement from high school.

To be a Greenager you must: 
Live or attend a school in the Southeast Sector of San Francisco (Excelsior, Portola, Bayview, Hunter's Point, Visitation Valley, Crocker Amazon, or Potrero Hill) or Northeast Sector of San Francisco (Western Addition, Tenderloin and Chinatown; Or you must be referred to us by one of our direct partners. 

Be a 9th or 10th grade student in the 2018-19 school year. 

Commit to the full program that runs from June 2, 2018-January 26, 2019
No experience is necessary. Students can earn a stipend of up to $100 a month. To apply online, click 
HERE
. You can also download and print an application by clicking on this link, 
Greenager Program Application 2018.
Enrollment for the 2018 Program is closed. Check back soon for 2019 Enrollment.
Heron's Head Park: Wetlands Restoration is Working from SF Bay Joint Venture on Vimeo.
About
History
Education Programs
Science Saturdays
The EcoCenter
Additional Information
About
One of San Francisco's ecological treasures, Heron's Head Park is a 22-acre open space and thriving wildlife habitat located in the City's Southeast Sector. Teeming with native plants and a wide variety of birds, Heron's Head Park is one of the few wetlands on San Francisco's shoreline, and is an example of restoration success. Heron's Head Park attracts more than 100 bird species a year and is used for education and recreation by thousands of bird-watchers, hikers, students, teachers, and visitors from around the San Francisco Bay Area, The land is owned by the Port of San Francisco, which works to enhance, expand, and preserve the Park, and to promote the public access and appreciation of all it has to offer. The Port and the San Francisco Recreation and Park Department have teamed up to offer hands-on education programs for youth and public participation opportunities for visitors of all ages.
Volunteer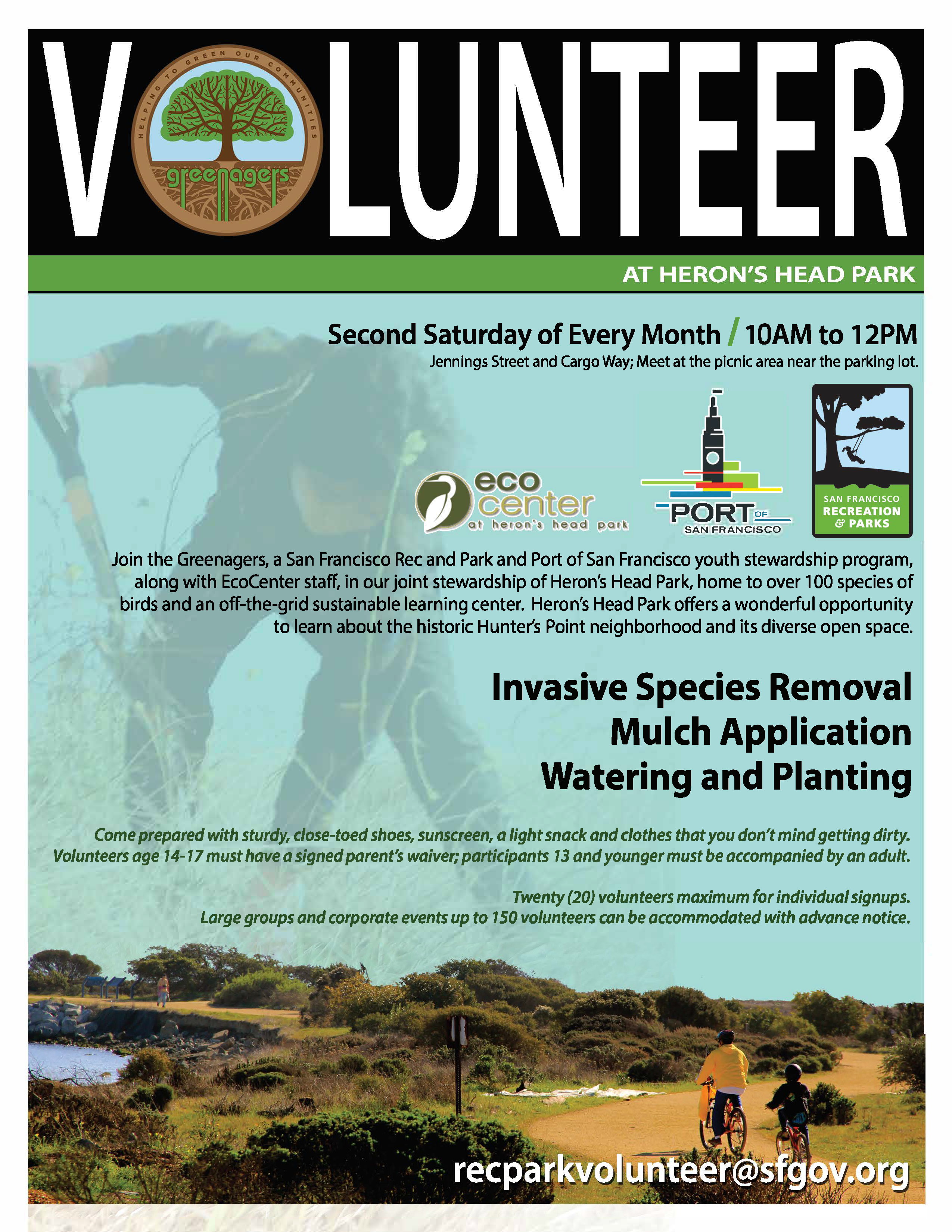 History
Heron's Head Park was born in the early 1970s, when the Port began filling the bay to construct what was to be the Pier 98 shipping terminal. The terminal construction never materialized, and the peninsula remained undeveloped. Over years of settlement and exposure to the tides, a salt marsh emerged, attracting shorebirds, waterfowl and aquatic wildlife. In the late 1990s, with funding from the City and County of San Francisco Public Utilities Commission, the Port, the California Coastal Conservancy and the San Francisco Bay Trail Project, the Port undertook a major renovation of Pier 98. The project enhanced and expanded the marsh by removing over 5,000 tons of concrete, asphalt, metal and other debris, created a tidal channel to improve circulation, and constructed upland trails, picnic and bird-viewing areas and a fishing pier. In 1999, the former Pier 98 officially reopened to the public as Heron's Head Park, named for its resemblance – when viewed from the air – to one of its residents: the Great Blue Heron.
In 2012 the Port completed various improvements to the park, made possible due to a 2008 voter-approved bond measure. Park improvements feature an off-leash dog run, a dedicated bike lane leading up to the park, and other park amenities such as bicycle racks and picnic tables.
Education Programs
Since Heron's Head Park opened in 1999, the Port has provided environmental education in the park for students, teachers, adults, volunteers and a diverse array of visitors. The programs teach participants about the wetland and upland habitat, San Francisco bay ecology and our role in the ecosystem. Most programs include hands-on restoration of the habitat at Heron's Head Park. The Port's environmental education programs at Heron's Head Park are offered free of charge through the Port's partnership with the City and County of San Francisco Recreation and Parks Department's Youth Stewardship Program (for more information about environmental education programs in Heron's Head Park, contact ysp@sfgov.org. You can also download a list of SF Recreation & Parks Department Programs at Heron's Head Park (PDF)
Science Saturdays
Looking for a fun way to spend time with your family? Head to the EcoCenter! Each Saturday, Bay.org's trained naturalists and partners offer a hands-on, nature based, fun event that is perfect for young kids to adults.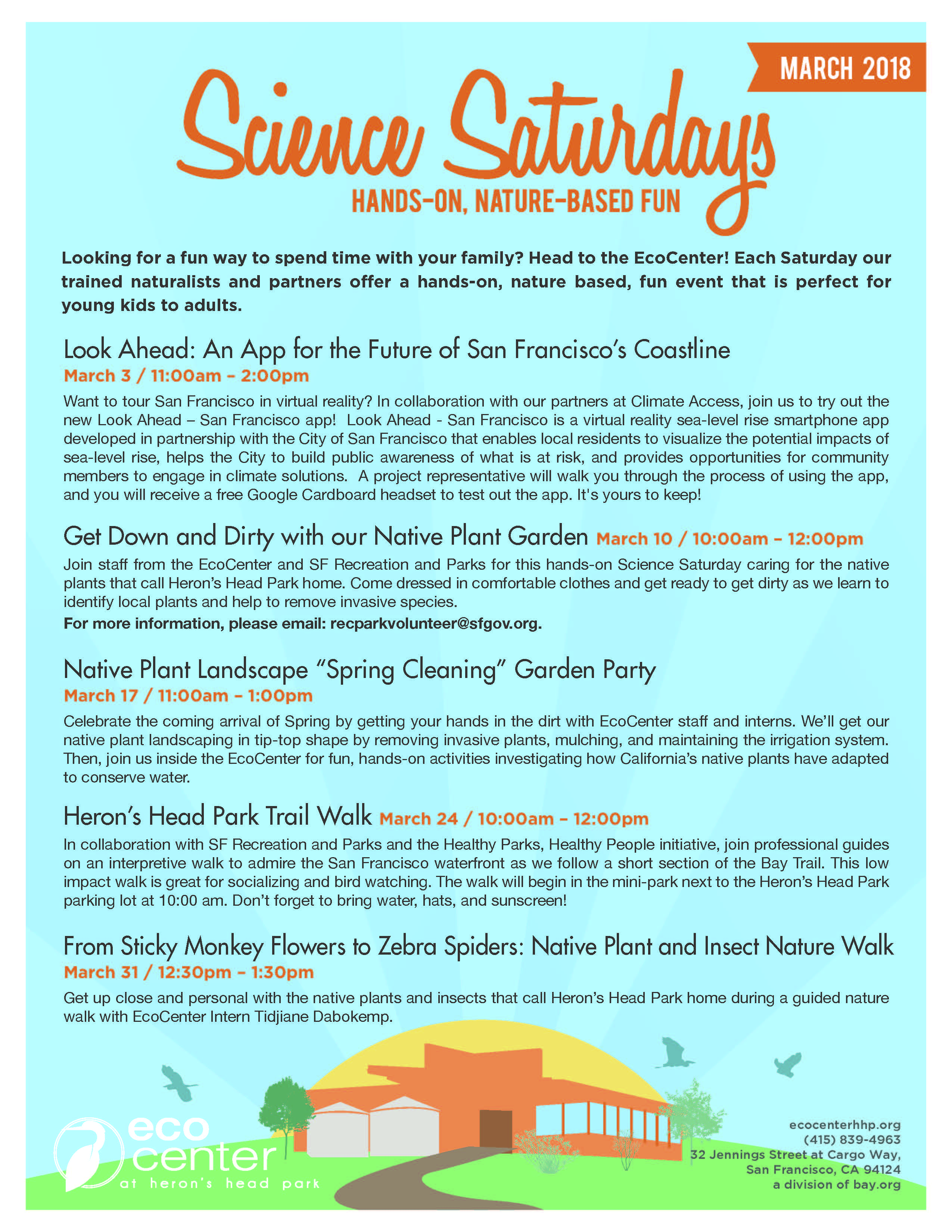 The EcoCenter at Heron's Head Park
In 2010, a non-profit organization and former Port tenant, Literacy for Environmental Justice (LEJ), constructed The EcoCenter at Heron's Head Park to serve as a demonstration of green building technology and a recreational and educational resource to the surrounding community, the city and the region. The EcoCenter features 100% solar power, on-site wastewater treatment, a living roof, rainwater harvesting, all native landscaping, sustainable building materials, and other resource efficient building features. It was the first LEED Platinum – Zero Net Energy building certified in San Francisco.

In 2014, at LEJ's request, the Port assumed ownership of the EcoCenter and, after a competitive selection process, leased the EcoCenter to a new operator, Bay.org, in partnership with City College of San Francisco and the A. Philip Randolph Institute. The EcoCenter is currently open to the public 9:30-3:30, Wednseday through Saturday, when staff are on hand to offer a short impromptu tour of the facility. The Bay Institute Aquarium Foundation offers free tours and educational programs at the EcoCenter. For more information and a calendar of public programs and events, go to http://www.ecocenterhhp.org.
Additional Information
Background information about design, monitoring, and environmental conditions at Heron's Head Park is provided in the following reports:
For more information about the Port's wetland restoration efforts, please contact Carol Bach at:
(415) 274-0568
carol.bach@sfport.com
---
Wetland Restoration | Heron's Head Park | Pier 94 Wetlands  | A Field Guide to 100 Birds of Heron's Head