Embarcadero Historic District Facilities Request for Interest - Responses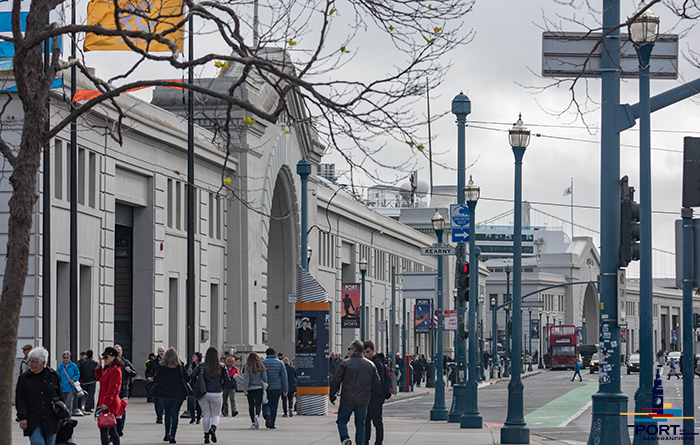 Active Recreation

Art, Makers, and Associated Retail

Education, Training, Incubator, Innovation Hub

Food and Beverage

Live Performance, Entertainment, Attractions

Maritime Excursion, Charter, and Transportation

Mixed Use with Hotel Concept (Note: Hotels are currently prohibited in piers)

Museum and Cultural Exhibition

Waterfront-wide Concept and Interest in Partnerships 
The RFI is the first step in developing Requests for Proposals to rehabilitate and preserve historic facilities in the Embarcadero Historic District. Refer to the Historic Pier Opportunities for Partnership page for more information about the Embarcadero Historic District, the RFI process, answers to questions about the RFI, and related documents and information.
---
Response Feedback
Before delving deeply into whether or how the concepts may be physically or financially feasible or how they may be permitted, the Port needs to hear from the public. The public and the RFI respondents are encouraged to take part in the upcoming public meetings.
Provide feedback on the RFI concepts and the RFI process now through the online feedback form. The online form will be open until January 31, 2019, though the public conversation will continue in other forms including online and in-person.
Links to pdfs of the individual RFI responses along with any additional information provided by the respondent are listed below. View all of the RFI Responses in two pdfs: Part 1, Part 2.
Important Dates & Information
---
RFI Responses by Category
The RFI responses are listed within the category that best summarizes the public-oriented portion of the RFI response. Each response has a title, preferred locations (in order of preference, if such preference was indicated - see a map of the RFI facilities), and a brief excerpt from the response. The title links to a pdf of the full response. Some respondents have submitted additional information; links to these items are provided. View all of the RFI Responses in two
 pdfs: 
Part 1
, 
Part 2
.
Active Recreation
Pier 38, Pier 28, Pier 26, Pier 33, Pier 31, Pier 40, Pier 291/2, Pier 29, Pier 35
"Sports and Entertainment facility (uses would include basketball, futsol, volleyball, dodgeball, etc.) plus corporate events (trade shows, product launches, non profit fundraisers, etc). Additionally,  we would have an extensive community outreach program to kids, schools, youth organizations and nonprofits. We would commit to give back over $500,000 per year."
Embarcadero Tennis Center at Pier 29
Pier 291/2 & 29, Pier 191/2 & 19
"(a) A world class recreation facility with indoor tennis and fitness uses; (b) the facility will serve a broad range of San Franciscans either thru a membership model or in a fee for daily use; (c) populations would include current and future tennis players in SF, as well as youth learning opportunities most importantly disadvantaged youth; (d) recreation uses are consistent with the Port's vision for the Embarcadero Historic District."
Embarcadero Tennis Center attachment
Pier 48, Pier 40, Pier 38, Pier 28, Agriculture Building, Pier 191/2 & 19, Pier 23, Pier 48, Pier 291/2 & 29, Pier 35, Pier 31, Pier 33
"We are a group of artists and landscape architects. Our interest is in creating opportunity for swimming along the waterfront… We propose setting up a harbor swimming pool in one of the basin areas between the piers. Major cities all over the world offer this exact type of safe harbor swimming---permeable pools set into ocean water with adjacent floating docks. The effect is a simple designs for floating pools."
Agriculture Building, Pier 26, Pier 28, Pier 38, Pier 40
"The RunBase would be a one-stop community resource center for running in the San Francisco Bay Area. If implemented in the Embarcadero Historic District, this could serve as a model for other cities."
The Museum of Future Sports (MoFS)
Pier 291/2 & 29, Pier 26, Pier 28, Pier 33, Pier 31, Agriculture Building, Pier 35, Pier 38, Pier 40, Pier 48
"MoFS will encompass high-touch interactive exhibits, a state-of-the-art 1500-seat event venue, STEM education classrooms, a sport/tech innovation lab, Future Sports Fitness Center, robotic bar and cafe, as well as the largest public video art space in California. Through a combination of architecture, lighting, video and projection mapping, MoFS Visitors are transported into a completely immersive vision of the future of sports and entertainment — the interior of the pier is literally transformed into an interactive destination for family adventures, STEM education, evening entertainment, professional sports and fitness."

Art, Makers & Associated Retail
CAST Culture Hub by the Waterfront
Agriculture Building, Pier 291/2 & 29, Pier 191/2 & 19, Pier 23, Pier 48, Pier 31, Pier 33, Pier 35, Pier 26, Pier 28, Pier 38, Pier 40
"CAST proposes activating the Port's facilities through adaptive reuse of the space for artist workspaces – working studios, galleries, maker, and retail spaces, to serve small to mid-sized nonprofit arts and culture organizations and individual artists, which will be publicly accessible. We envision opportunities for events creation by offering open studio tours and increased visibility for San Francisco's arts and culture assets through potential on-site artist residency programs. In order to do so, CAST envisions forming a strategic public-private sector partnership with the Port to enter into a lease where CAST would manage and complete the tenant improvements, activating the space with community based nonprofit arts and culture organizations and ensuring its financial and operational feasibility. CAST can serve as the nonprofit organization/master tenant of the space and sublease the space to its arts partners, creating a vibrant, arts and culture hub along the Embarcadero."
re.riddle, site-specific installations
Pier 28, Pier 38, Pier 48, Pier 35, Pier 33, Pier 31, Pier 23, Pier 40, Pier 191/2 & 19
"Our art gallery will be using the historic piers as sites for cultural programming, art exhibitions, site-specific/interactive/multidisciplinary installations to engage with the public. It will act as a bridge between the international and local communities, in that it will partner with both international and local cultural organizations, artists, performers, writers, musicians, architects, other creative bodies and institutions. It will symbolize a entry point to San Francisco as an international arts site, and target varying socio-economic classes and diverse ethnic and racial communities."
Pier 191/2 & 19 & 23
"We propose a major public gallery in the connector building between 19 and 23, along with restaurant and cafe uses. We propose general office use in the Pier 19 and 23 sheds."
The Studios at Makers' Bay - Pier 29
Pier 291/2 & 29
"We envision a world-class Art Center called The Studios at Maker's Bay (SMB). It will be home to more than 30 publicly accessible working artists' studios (actual studio quantity TBD- we anticipate the number of studios to increase at final design) and 1 commercial fine art gallery. The majority of the space will be designated for professional visual artists who produce a diversity of artwork, including painting, photography, printmaking, and sculpture, as well as a central plaza for world class exhibitions and art events to deliver unique value to a marketplace of experienced art lovers and collectors as well as those new to collecting art."

Education, Training, Incubator, Innovation Hub
The Bay Area Center at the Agricultural Building
Agriculture Building
"This facility will be a public-private partnership that celebrates the history, culture, peoples, economy, geography, and ecosystems of the Bay Area, by offering engaging content and events, providing a venue for public collaborations, activating and connecting adjacent public spaces, and housing organizations that support and contribute the Bay Area. It will catalyze a greater public appreciation for the Bay Area as an integrated region by illuminating what binds it together."
Pier 38, Pier 28, Pier 26
"The Zenviba Catapultech Incubator will be modeled after the highly successful Station F technology incubator in Paris and include [space for]… venture capital, development services and mentoring for startups and co-working spaces for underrepresented groups of entrepreneurs... the  Dr. B. Nathaniel Burbridge Center for Inclusive Innovation.. and the HBCU Pacific Research Institute, a hub for research, online and direct instruction and technology transfer for historically black colleges and universities, African and Caribbean universities to solve the big problems of poverty, health and economics."
The Center for the Third Sector – Fostering Nonprofit Impact
Pier 38, Pier 28, Pier 33, Pier 35, Agriculture Building, Pier 23, Pier 291/2 & 29
"We are proposing the Center for the Third Sector. A location for nonprofits to establish and grow their businesses and for the public to learn about the tremendous scope of work undertaken by socially beneficial organizations. The spaces would be divided into three main categories: 1. Public Facing - Nonprofit retail and restaurant and education space describing work and history of nonprofits and role of unions, especially longshoremen, in the labor and life of San Francisco. 2. Nonprofit and social venture office space with an emphasis on nonprofits displaced by development in South Beach and other nearby communities. 3. Meeting, conference and event space - primarily for the use of nonprofits but accessible to the public."
Pier 191/2 & 19, Pier 26, Pier 38
"CIC's mission is to change the world through innovation by developing innovation ecosystems that enable exceptional entrepreneurs to create new products better and faster. We do this by creating world-class infrastructure and opportunities for innovators, including high-quality, flexible office space; shared wet-lab facilities; the world's leading shared robotics lab, MassRobotics; civic innovation spaces; and targeted programming to help entrepreneurs grow their businesses and cities improve their innovation output."
The International House of Prayer For Children
Pier 291/2 & 29, Pier 26, Pier 28, Pier 33, Pier 31, Agriculture Building, Pier 35, Pier 38, Pier 40, Pier 48
"To Give space to young children and their families, who want to allow their CHILDREN TO PRAY AND WHO ARE ALSO SF Hotel Guests..LOCALS ARE ALSO WELCOMED, HOWEVER THIS IS A VENUE SPACE FOR CHAPERONED YOUNG CHILDREN TO BE FREE TO PRAY TO THE LORD."
Agriculture Building
"CDP & Talent Garden…supported by the Italian Government.. have started a common working group with the main aim to create a bridge from Italy to the top world tech-business scene: ​San Francisco and the Silicon Valley… [including] operations in co-working, community development, education and events​, to bring the Italian ecosystem (private and public sector including companies, VC, incubators, accelerators, universities, etc.) to Silicon Valley and make it grow in terms of Foreign Direct Investments,​ ​Knowledge​ ​Base,​ ​Promotion​ ​Opportunities,​ ​Innovation​ ​Visibility."
Italian Innovation Hub attachment
Pier 19-23: A Commons for Education and Innovation
Piers 19-23
"We propose to re-envision Piers 19-23 to create an educational, cultural, recreational, and commercial innovation center. The redevelopment will form an Arts, Education and Business Innovation District that will extend from Piers 15-17 to the Northeast Waterfront area and complement the existing uses of the Exploratorium and Theatro Zinzani dinner theater. We propose to remove Pier 191/2 to create an open public area which connects Piers 19 and 23 with a wide-open, expansive covered plaza of almost 36,000 SF."
Plug and Play SF (Co-working space for startups)
Pier 48
"Co-working space for early stage technology companies."
Agriculture Building, Pier 23, Pier 191/2 & 19, Pier 28, Pier 38, Pier 48, Pier 31, Pier 35
"Zambaleta is a music education nonprofit based in San Francisco. We are interested in developing a community music school that increase public access to all the rich musical traditions available in the Bay Area. While some of these classes would require a certain level of musical competency, many will be open to interested learners of all levels. Through its diverse musical offerings, Zambaleta hopes to bring San Francisco's rich musical cultures to the Embarcadero - thereby creating more jobs for the city's teaching artists while offering San Francisco visitors an opportunity for a unique hands-on musical experience."

Food and Beverage
Agriculture Building
"The use would be predominantly office above ground floor retail. The retail use would primarily consist of a community-serving food and beverage operation but would also include dedicated space for a non-profit, ideally in the maritime space. The ground floor retail would be publicly accessible and the goal would be to not only create something that services the local neighborhood, but rather becomes a destination attracting locals and tourists alike to the waterfront."
PastaPorto, Artisanal pasta and pizza
Pier 31, Pier 291/2 & 29, Pier 23, Pier 191/2 & 19, Agriculture Building, Pier 26, Pier 28, Pier 38, Pier 40, Pier 48 
"Fresh homemade pastas and wood fired Neapolitan pizza. We plan on serving visitors as well as the many companies in the downtown area."
Pier 291/2 & 29, Pier 191/2 & 19, Pier 38 
"For Pier 29, we propose a combination of uses for including food and beverage outlets, wine tasting, craft beverage production, special events, education, entertainment and related activities in the bulkheads and pier sheds."
Pier 38, Pier 191/2 & 19
"We propose a combination of uses including food and beverage outlets for the bulkhead. We also propose general office use to generate the income necessary to fund the improvements. Finally, we propose a water taxi landing on the south side of Pier 38."
Piers 38-40: Restaurants and Recreation At South Beach
Pier 291/2 & 29, Pier 26, Pier 28, Pier 33, Pier 31, Agriculture Building, Pier 35, Pier 38, Pier 40, Pier 48
"We believe that it represents a terrific opportunity to create innovative commercial space which will fund very significant public benefits in the form of maritime and recreational and provide an attractive return for the Port.. including junior sailing, kayaking, and other more affordable boating on the north apron, space for ferries and water taxi on the south apron, and pop-up restaurants, Asian-style food courts, and night markets to provide the public with more affordable ways of enjoying the waterfront….[and to] explore with the Port the feasibility of extending the scope of Piers 38-40 to a master lease for South Beach Harbor."
Piers 38-40 attachment 1, attachment 2
The Royal Cuckoo Museum Bar and Pipe Organ Lounge
Agriculture Building, Pier 191/2 & 19, Pier 26
"The proposed use is a cocktail bar. It will consist of a craft cocktail bar, a museum, and a live music venue that includes a pipe organ."
Tarara - an authentic Japanese street experience by the AT&T Park
Pier 40
Food: Japanese street experience.

Live Performance, Entertainment, Attractions
Gateway to the San Francisco Dream
Pier 191/2 & 19, Pier 23, Pier 28, Pier 38, Pier 48, Pier 31
"The Exchange will celebrate the many different cultures that have shaped San Francisco and the immigrants who have shared them.  At the heart of The Exchange is a multi-cultural, food truck court, a game changing 18 hole miniature golf and game course, a public art space and an incubation space to help new truck owners emerge. Through food, art and active play San Franciscans and visitors will deepen their appreciation of the diverse groups that have made this city so special."
Heart of San Francisco Gondola
Pier 291/2 & 29 
"This is an aerial gondola ride with a heart shaped dome that carries 15 passengers from the ground to 150 feet up in the air through a ribbed metal structure. The guests enjoy drinks while ascending and watching the entire waterfront and aerial views. The artistic design and immersive experience is a 'must do' for visitors."
Pier 48, Pier 33, Pier 31, Pier 26, Pier 28 
"This is a three dimensional project: 1. Virtual Reality to learn the history culture & future of San Francisco, 2. Creative production hub/incubator & studio/gallery venue, 3. Cafe where students, participants, guests, and tourist can enjoy local to global bites."
Pier 38, Pier 35, Pier 23, Agriculture Building, Pier 26, Pier 40, Pier 48, Pier 28, Pier 291/2 & 29, Pier 191/2 & 19
"Technology Offices, Start-ups in collaboration with UC-system, Our Renewable Energy business line Principal Offices, Historic Art Gallery, Several Restaurants, NBA Exhibition & Theater Facility, Studio for Live Recordings, Berths for Super Yachts, General Marina, Water Sports depot, Al Fresco Dining, Light-show, Bands at Floating Marina nightly."
Pier 29 Center for Technology and Entertainment
Pier 291/2 & 29
"The concepts include a 540-seat theater with endstage configuration, a concert venue with seating and standing audience areas, a circus venue with seating surrounding the performers and a drone racing venue. In each case, the facilities could offer programming that appeals to a wide range of patrons – both local and tourists of all ages and all walks of life."
Pier 29 attachment 1, attachment 2
Pier 23, Pier 191/2 & 19, Pier 35, Pier 33, Pier 31
"Pocket Planet is a location-based "indoor" destination entertainment attraction with significant experiential, educational, and interactive components. Pocket Planet is a 40,000 to 60,000 square foot "experience" and will be similar to indoor model worlds such as Miniatur Wunderland in Hamburg, Germany, which is regularly voted as the most popular tourist attraction in Germany, attracting over 1.5 million annual visitors of all ages. [http://www.miniatur-wunderland.com/]... In Pocket Planet visitors can create models of themselves with 3D scanning and printing and then place the models in their area of choice in Pocket Planet."
Reason: Future Tech Escape Room San Francisco
Pier 48, Pier 40, Pier 38, Pier 28, Pier 26, Agriculture Building, Pier 191/2 & 19
"Reason hosts team building events focused around technology exploration and problem solving including drones, 3d printers, VR, holograms, robotics etc. Our experience is popular with teams from companies, friends, and families. Our mission is to humanize our relationship with technology and each other, which is well suited for the project and position the Embarcadero as an innovation and cultural center for all."
Strangetown USA: An Immersive Exploration of San Francisco's Past, Present and Future
Pier 291/2 & 29, Pier 23, Pier 191/2 & 19, Pier 31
"The use we are proposing is an immersive art installation that will interpret the past, present and future state of San Francisco. In a style similar to Meow Wolf (www.meowwolf.com) large scale installations and environments will provide a means of telling the story of our city. It will be an extensive showcase of the art of hundreds of Bay Area artists in our community that have years of experience in designing immersive environments, theatrical shows and interactive activities... There will be performances in the space that range from musical to circus/dance to theatrical, adding a dynamic element to the viewer experience. As a whole, the installation, performances, and actions of the viewer will provide insight into the history of the city, interpretations of the current events, and projections of how the city might develop into the future..."

Maritime Excursion, Charter & Transportation
Hovercraft for the San Francisco Bay
Pier 28, Pier 26, Pier 40, Agriculture Building, Pier 48, Pier 191/2 & 19, Pier 23, Pier 291/2 & 29, Pier 31, Pier 33, Pier 35
"HOVR California wishes to use one of the Port's historic piers in order to manufacture and maintenance hovercraft. Additionally, we wish to operate hovercraft to and from the port location as a central hub of a larger hovercraft network to connect the rest of the Bay Area."
Pier 35, Pier 33, Pier 31, Pier 291/2 & 29, Pier 23, Pier 191/2 & 19, Pier 26, Pier 28, Pier 38, Pier 48
"Public maritime use, pier and float access to public-oriented watercraft and commercial vessels."
Pier 191/2 & 19, Pier 33, Pier 28, Pier 291/2 & 29, Pier 26, Pier 40, Pier 23, Pier 35, Agriculture Building, Pier 38, Pier 48
"Vintage Yacht Partners will offer charters - including overnight accommodations - on vintage motor yachts of classic design. This fleet of vessels - 4 to 8 in number - will include fully restored wooden-hull boats ranging in length from 35 to 55 feet. They would be 70 to 100 years old, typically, and some would have historic associations with well-known public figures or celebrities... The berthing of these beautifully crafted motor yachts will have exceptional visual appeal for pedestrians, as well."
The Vintage Yacht Experience attachment

Mixed Use with Hotel Concept
(Note to reviewers: Hotels are currently prohibited in piers)
Agriculture Building / Ferry Plaza: Ferry Plaza 2.0
Agriculture Building
"We propose to adapt the Agriculture Building for either hotel or office use. Hotel use is preferred, but we realize that this will involve a referendum and are prepared to work with the Port, public, and local supervisors to build a consensus... We are optimistic that, given the evolution of the Waterfront, the public might now support a referendum that would exempt a limited number of small hotels from Proposition H on select sites along the Port's land. However, should the Port not wish to undertake a referendum, the office use would also be an acceptable and viable option... Our solution [to financial feasibility challenges] lies in what we refer to as Ferry Building 2.0.... We envisage creating an iconic structure atop the BART facility in place of the restaurant occupying the now defunct World Trade Club. Just as the Ferry Building was an iconic monument to San Francisco's dominance in transportation and trade innovation at the turn of the 20th Century, this will be a publicly accessible iconic structure celebrating San Francisco's place at the turn of the 21st Century as the world's leader in technological innovation..."
Agriculture Building / Ferry Plaza attachment 1, attachment 2
Pier 26, Pier 28, Pier 38, Pier 291/2 & 29, Pier 191/2 & 19 
"We envision a dynamic and vibrant mixed-use property to include restaurants, cafe, guest rooms, event and makers space, tasting room, barber shop, day spa, and ample activated public indoor and outdoor areas. Target audiences include visitors to the city and bay-area residents alike. We would set to deliver another longterm iconic asset to the stories Embarcadero Historic District."
The Embarcadero Collective attachment

Museum & Cultural Exhibition
THE HUMM - the museum of possibility
Pier 191/2 & 19, Pier 23, Pier 291/2 & 29, Agriculture Building, Pier 31, Pier 33, Pier 26, Pier 28, Pier 40, Pier 48
"Through temporary exhibitions, festivals, events, panels, talks and family activities the HUMM will shed light on the work and tell the stories of people who help make the world a more HUMane place. Our goal is to foster reflection, engagement and dialogue on topics that are related to this earth, its people and creatures, it's problems and possibilities, human rights, war, peace and the resolution of conflict. The HUMM is a museum of possibility, a museum for "now"."
Kulturehaus: bringing art to the people and people to art
Pier 291/2 & 29, Pier 191/2 & 19, Pier 31, Pier 33, Pier 35, Pier 26, Pier 28, Agriculture Building
"Kulturehaus intends to open the historic pier (name TBD) with high-visibility immersive art installations and experience-driven events. A rotating program of large-scale art shows, workshops, demos and discussions will draw a wide audience of all ages and interests."
Pier 291/2 & 29 
In the Maritime Mile waterfront-wide concept, "Pier ends are public/private icons. World-class design level cultural hubs are located at the Bay-side ends of the Piers as 'Beacons of Culture'" ... including a Museum of Dance to address "the potential inaccessibility of dance information to the public by allowing the public to experience dance through interactive hands-on approaches."
Museum of African-American Art
Pier 291/2 & 29, Pier 35, Pier 23, Pier 33 
"Creation of the largest art and tourism site to celebrate the African-American art and history on the West Coast, the counterpart to the Smithsonian National Museum of African-American History and Culture. With 70,000 square feet, the Sargent Johnson National Museum of African-American Art would fill the void for a major exhibit and permanent space for major African-American collections."
Project Embarcadero: ad-hoc architectures created by and for San Francisco's creative community
Pier 191/2 & 19, Pier 23, Pier 291/2 & 29, Pier 26, Pier 28, Agriculture Building, Pier 31, Pier 33, Pier 35, Pier 38, Pier 40, Pier 48
"We propose to reactivate the SF Historic Piers as a flexible cultural event and production space to nurture and showcase San Francisco's creative producers across art, design and technology. This use would engage the public by inviting visitors of all ages and demographics to join in events led by the creative community."
Pier 28, Pier 38
"We are proposing a mixed use concept with a combination of retail, office and park uses. The very rear of the pier will house a biosphere-type structure which will house a botanical garden. This will a be public park that will allow residents and visitors to engage with the waterfront in relative warmth while enclosed in a protected area that is also densely populated with fauna."
Agriculture Building 
"Women's Museum (focused on history and art),  the museum will create original exhibits, serve as an educational resource, community meeting space, research center, and community event space; Educate the general public about women's history, and act as an educational resource for schools, and the greater community, as well as be a museum destination for tourists; and Be another unique tourist experience, as well as a great destination for student groups and community members."
Women's Museum of California attachment

Waterfront-wide Concept & Interest in Partnerships
"Combination of use that is income producing and funding a component that is public use (non-profit, research, maker space, educational, family, tourism, etc.). target population: local, national, tourists/visitors. All age groups, active use every day, year round."
A Civic Waterfront: Making Community Engagement the Heart of the Development Process
Pier 35, Pier 33, Pier 31, Pier 291/2 & 29, Pier 23, Pier 191/2 & 19, Agriculture Building, Pier 26, Pier 28, Pier 38, Pier 40, Pier 48 
"This RFI initiative sets a valuable and important goal into action – creating a more vibrant and civically engaged waterfront. It's vital work that will improve the quality of life of San Franciscans and visitors alike. As the projects the RFI hopes to initiate often take years to come to fruition, an essential question becomes how can the Port leverage the process of the RFI to create a more vibrant waterfront right now? The answer: Make community engagement the heart of the RFI process. This means taking advantage of the interim before long term development projects begin, to program the piers, increase civic engagement and collect data on how people actually use and relate to the waterfront. By combining pop-up programming with analytic and creative community engagement tools, the SF Port has the opportunity to create deeper, more trusting relationships with our city's communities, while prototyping programs, forms, and activities on the targeted piers."
Kenwood Investments Waterfront Development
Pier 35, Pier 291/2 & 29, Pier 23, Pier 191/2 & 19, Pier 26, Pier 28, Pier 38 
"We will target public oriented uses that are able to generate sufficient economic return to construct our project, provide a market return to our investors, and return a fair and balanced rent to the Port. San Francisco residents and visitors to San Francisco will be our target populations. Given our experience, we believe that we know how to design a project that complements and responds to nearby uses and the conditions in the Embarcadero Historic District. The uses we would include in our project would involve Public Trust consistent uses, such as water dependent uses, maritime and marina related uses, recreational uses, visitor serving retail, historic preservation, arts and artists , assembly and entertainment, specialty food and bars, and other unique retail experiences that can appeal to locals and visitors alike."
Pier Promenade – An Expanded Vision for San Francisco's Historic Waterfront
"Our Expression of Interest is in the form of a 'concept board' which asks the questions, and explores the notion and provides an expanded vision for public-oriented destinations on San Francisco's waterfront. WHAT IF we could stitch the waterfront together with a continuous ribbon of arts, culture, food, hospitality, and entertainment? An expanded vision for public-oriented destinations on San Francisco's waterfront. Enhancing and redefining the economic viability of facilities and public spaces within the Embarcadero Historic District. How do we create additional authentic destinations? How do we drive greater access and circulation beyond the bulkheads into the historic piers? Is there a bigger story for the waterfront, compared to a pier by pier redevelopment approach? How do we merge a world class destination with the public-private investment and development? The possibilities are breathtaking."
Pier 35, Pier 33, Pier 31, Pier 291/2 & 29, Pier 23, Pier 191/2 & 19, Agriculture Building, Pier 26, Pier 28, Pier 38, Pier 40, Pier 48  
"Fletcher Studio envisions a space that provides a variety of amenities, including: resident artist studio spaces, food and beverage service, play areas for all ages, cafe spaces, planted areas, art installations, public bathrooms, music and performing stages, flexible and fixed seating, with all services fully accessible. We look to the unique revitalization of the Cherry Street Pier in Philadelphia, PA, as well as the ongoing work along Seattle's Waterfront, particularly at Pike Place Market and MarketFront Promenade."
TCC Master Tenant and Facilitator
Pier 291/2 & 29, Pier 23, Pier 191/2 & 19, Pier 40, Pier 48, Pier 23, Pier 26, Pier 28, Pier 35, Pier 33, Pier 31
"As Master Tenant Trammell Crow Company will pursue the sublease of space to proposed economically feasible public-oriented uses that have indicated interest in utilizing the Historic Piers or will be responding to this RFI. We seek to work with the Port and Smaller Tenant proposers to develop a market driven viable plan to rehabilitate specific piers to facilitate their reuse."
Restoration, Resilience, Access & Activation (A P3 Vision)
Pier 35, Pier 33, Pier 31, Pier 291/2 & 29, Pier 23, Pier 191/2 & 19, Agriculture Building, Pier 26, Pier 28, Pier 38, Pier 40, Pier 48 
"Our proposal aims to deliver increased green space and pedestrian-oriented public space along the Embarcadero, adapt to protect the City against sea-level rise risks, resurrect lost historic pier's to create new event spaces/parkland/habitat/sports facilities, and renovated piers for cultural/hotel/f&b destinations. This proposal is advocating for a public-private-partnership in which the Port and the City would utilize commercial development to fund the development of the above public destinations and public benefits."
Restoration, Resilience, Access & Activation attachment
Give feedback on the Historic Piers RFI
Sign-up for the Embarcadero Historic Piers RFI mailing list. 
Do you have questions about the RFI? Find answers here. Email further inquiries to Rebecca Benassini, Port Assistant Deputy Director Waterfront Development Projects, at historicpiers@sfport.com