Resilient by Design Selects Islais Creek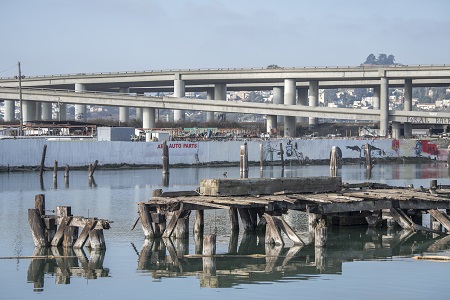 Photos by Karl Nielson
 
"The days of assuming that an industrial region cannot also be vibrant and ecologically healthy, are over. The Port rejects that idea. Islais Creek gives us another opportunity to prove that."
Lindy Lowe, Port of San Francisco Resilience Program Manager
 
Islais Creek, spilling out into the Southern Bay by Pier 80, was nominated by the Port and City of San Francisco and selected by the Resilient By Design Initiative, as one of nine Bay Area sites to be "re-imagined" with help from community members and other stakeholders for a future filled with nature coexisting with jobs and education while also being prepared for sea level rise and seismic disruption.
The Port of San Francisco is one of the stakeholders in this exercise; being led by the Resilient by Design Bay Area Challenge and funded by the Rockefeller Foundation is supported by the Rebuild by Design organization. The design team that was paired with the Islais Creek site is the  BIG+ONE+Sherwood team. This phase of the RBD Challenge began in January 2018 and will wrap up in May of 2018, with opportunities for community and stakeholder participation in April and May.
Port Resilience Program Manager Lindy Lowe sees the Resilient by Design Challenge as a great opportunity to continue to work with communities in the Bayview and develop a shared vision  of how to improve Islais Creek in the near term, the mid-term and what a long-term vision for a resilient Islais Creek area that improves ecological and transportation connections, builds jobs and educational opportunity, and serves the community.  While the RBD initiative will be at the conceptual level, Lowe looks at this as a test lab for how we use areas around Bay Area creeks to benefit the community, improve community resilience, and support a healthy environment all at the same time.