Behind the Scenes at Pier 27 Cruise Terminal
Grand Princess Arrival Log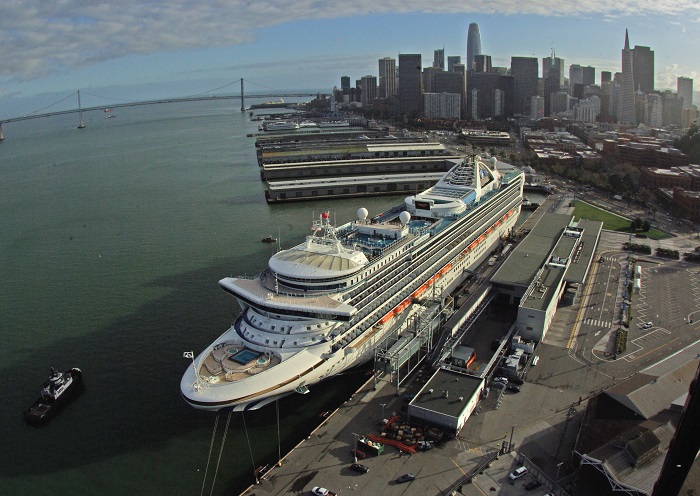 On Tuesday, June 5, Grand Princess arrived for one of her 35 calls at the Port of San Francisco for 2018. Every step of the arrival and departure is scheduled and choreographed down to the minute! Here's what happened that day.
5:00 AM
A harbor pilot from the San Francisco Bar Pilots boards Grand Princess 11 nautical miles west of the Golden Gate Bridge to give the ship's master, Captain John Smith, navigational guidance into the Bay.
5:40 AM
As the sun rises, the ship sails under the Golden Gate Bridge.
6:30 AM
Grand Princess backs into the Pier 27 stern first to connect to shoreside electrical power on the ship's port (left) side.

Metro terminal employees and ILWU (longshore) dock workers arrive at Pier 27 Cruise Terminal.
7:00 AM
Longshoremen tie up the ship with mooring lines.

Passenger gangway is connected to ship's Deck 7.

Tugboat pushes a bunker barge up next to the ship's starboard (right) side for fueling.
7:30 AM
Shipside doors open.

Longshoremen take luggage off ship in carts and organize it inside the terminal for retrieval by passengers after disembarkation.
8:00 AM
Ship connects to shoreside power and ship's engines are turned off. Zero emissions!

2,600 passengers begin to disembark.

Since this ship is coming from Victoria, Canada, all passengers are cleared inside the terminal by US Customs & Border Protection.

Passengers collect baggage. Union porters assist passengers with baggage. Metro employees assist passengers with directions or questions.

Passengers take buses to the airport, or taxis or private vehicles to hotels or home.

As soon as the passengers check out, crew members on board clean rooms and prepare the entire ship for the afternoon's voyage.
10:30 AM
All luggage is off the ship and all passengers have disembarked.

Approximately 100 of the 1,200 crew members disembark for scheduled vacation, while the same number of crew embark, returning to work from vacation.

Longshore workers load up to 400 pallets, stacked with provisions, on board.
11:00 AM
New passengers begin to arrive at Pier 27 for afternoon departure.

After showing their ticket at the terminal entrance, passengers go upstairs for security screening, just like at the airport. Meanwhile their suitcases are screened and loaded on board by longshore workers.

Passengers receive a special ID card that allows the ship to know at any moment who is aboard. This card is also used to track purchases during the trip.

Passengers begin boarding the ship as soon as it is ready.
3:00 PM
All 2,600 passengers are on board.
3:30 PM
The ship's crew lead the passengers through a lifeboat drill and safety talk.

Captain Smith returns to the bridge and directs the Chief Electrician to begin disconnecting shoreside power.
4:00 PM
Mooring lines are untied and Grand Princess heads into the Bay, directed by a pilot.
4:30 PM
While passengers are on deck music plays, and the ship sails under the Golden Gate Bridge.
5:30 PM
The pilot is dropped off 11 nautical miles beyond the Golden Gate Bridge.

Grand Princess makes a right turn and heads toward Alaska. She will return to Pier 27 in 10 days to do it all over again.